About
Professionally
Who am I?

I am a full stack generalist. I work all parts of the stack, from backend development, to middleware, to frontend development, and test, build, infrastructure, and deployment automation and tooling.
I am a problem solver who who believes in his ability to get the job done on time and in a practical manner. I am able to work on my own or with others and take ownership over projects to completion.
I enjoy working in a fast paced environment with a bias towards action. I believe in "being the change", so when I see something that needs fixing or someone that needs help, I will try to do it then if I can. If not, then I'll take note to followup and raise the flag with others in the hope that someone else can pitch in.
I am customer obsessed, whomever they might be to me. I want to see my customers get value from what I am doing and I enjoy making their lives better. I priortize supporting them above most other things.
I trust by default, which means I assume my colleagues and users have the best intentions, are doing they best they can, that they will make smart decisions, will ask for help if they need it, and that they want to help make things better.
I believe in shipping to learn, owning the outcomes, having a growth mindset, going the extra mile, and practicing kindness. I believe context is king and documentation is extremely valuable.
Some of my favorite "isms"/principles/takes in computing are:
Who am I not?

I'm not a rockstar, unicorn, or any sort of ninja. I rely on documentation, research, and reference materials to guide me. I believe strongly in the keynote Jacob Kaplan-Moss gave at PyCon 2015 on the myth of the rockstar, ninja, 10x programmer.
What do I value?

I value transparency and communication within all levels of an organization. I believe in trusting and helping each other as a team. I want to learn and grow as an engineer and person.
What do I want?

I want to be a part of a team/org that is empowered to make their own decisions and move fast. I desire leadership that provides clear direction. I need to understand how I am making an impact and a difference.
What don't I like?

I do not enjoy red tape, obtuse and opaque process, or office politics and gossip. I don't like negativity from my team mates. Teach and uplift one another, not bring each other down.
What am I looking for?

I am looking for a flexible role that is results oriented where I have the ability to work remote flexible hours. I'd like to work with a small(er) team where I can have an impact on many individuals.
Personal
I am a tinkerer. In my personal life I like to hack on problems, whether they are physical, from mechanical issues on cars, to stuffing an engine from a 2000-era vehicle into one from the 1980s, to metal fabrication, to digital/tech problems as well.
I grew up in Locust Grove, Georgia, roughly 40 miles from Atlanta. I am an only child. I spent much of his childhood playing outside with my cousins and friends, fishing, spending time outdoors, farming, and flying with my dad, travelling with my mom, and being a general mess.
Later on I'd discover computers, video games, and cars which would consume most of my teens and twenties.
These days I try to spend my free time by:
Cooking and grilling
Hiking and urban walks
Traveling and experiencing new food and cultures
Weight training
Visiting my friends and family back east (Hi Mom! Love you Pop-Pop!)
Trying new beers (3000+ unique to date!)
Watching MLS, Cheering for the Sounders and ATLUD, and the USMNT
Word games: Crosswords before bed with Melissa, NYT Spelling Bee, and Wordle with friends
Giving love to Einstein (sorry Uncle Joel) - and petting any random animals that that I can.
Some infrequent and previous pastimes/interests/hobbies include: cycling, pickling/fermenting, barbequing/smoking, brewing beer (w/ friends), sailing (with Joel), shooting trap/skeet (or melons), endurance racing (Le Mans; I've been to the 12 Hours of Sebring eight times and hope to go to the 24 heures du mans someday), sitting around a good fire, fishing, photography (flowers, landscapes, animals, motorsports), chili cook offs, and video games.
I also enjoy an engaging tv show, book, or movie, a variety of music, science, any form of informational or educational media, and documentaries/docudramas. I love a good game night with friends or family. And I havea particular fondness for any food/travel related content (Bourdain [♥], Pepin, J. Kenji, Babish, Favreau, Rosenthal, Matheson, etc).
I used to be an active car enthusiest. I am hands off these days, as I haven't owned a vehicle since 2018. It started with go-karts and four wheelers in my teens, and eventually moved into cars. I've torn down and rebuilt engines, replaced transmissions, performed engine swaps, "made a convertible", and just about everything else. As a result I got into metal fabrication and have modified subframes, made custom engine mounts, welded custom exhaust, created gifts/art, and made various one-off pieces for my projects.
I was introduced to computers around 1994. I built and ran several websites from 1998 to 2004 that were popular among my peers at school (mostly curated content from places like newgrounds, ebaums, etc; and eventually producing some of my own content and hosting other students' content as well). I started to learn to program around 2000 (C++, Java, & Python), and I have been writing software ever since.
Committing
I really enjoy writing code. These days I don't get to sling as much code as I used to, but it is my core passion. Below are a few points in time where I was making what I felt was an exceptional impact of some kind, thus providing me with a great sense of joy and accomplishment.

The highest number of contributions I was able to rack up in a year: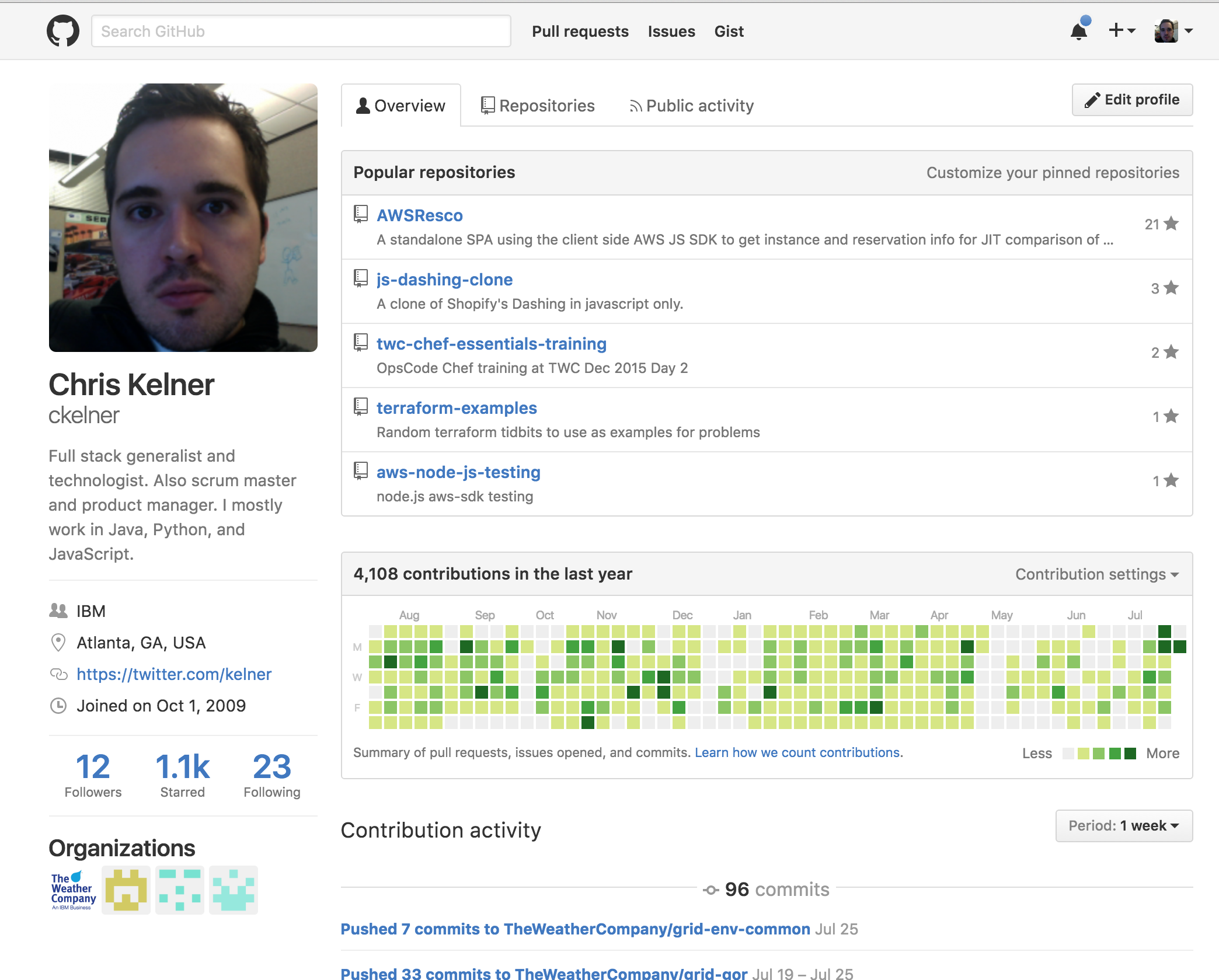 A 100 day commit challenge I made with myself: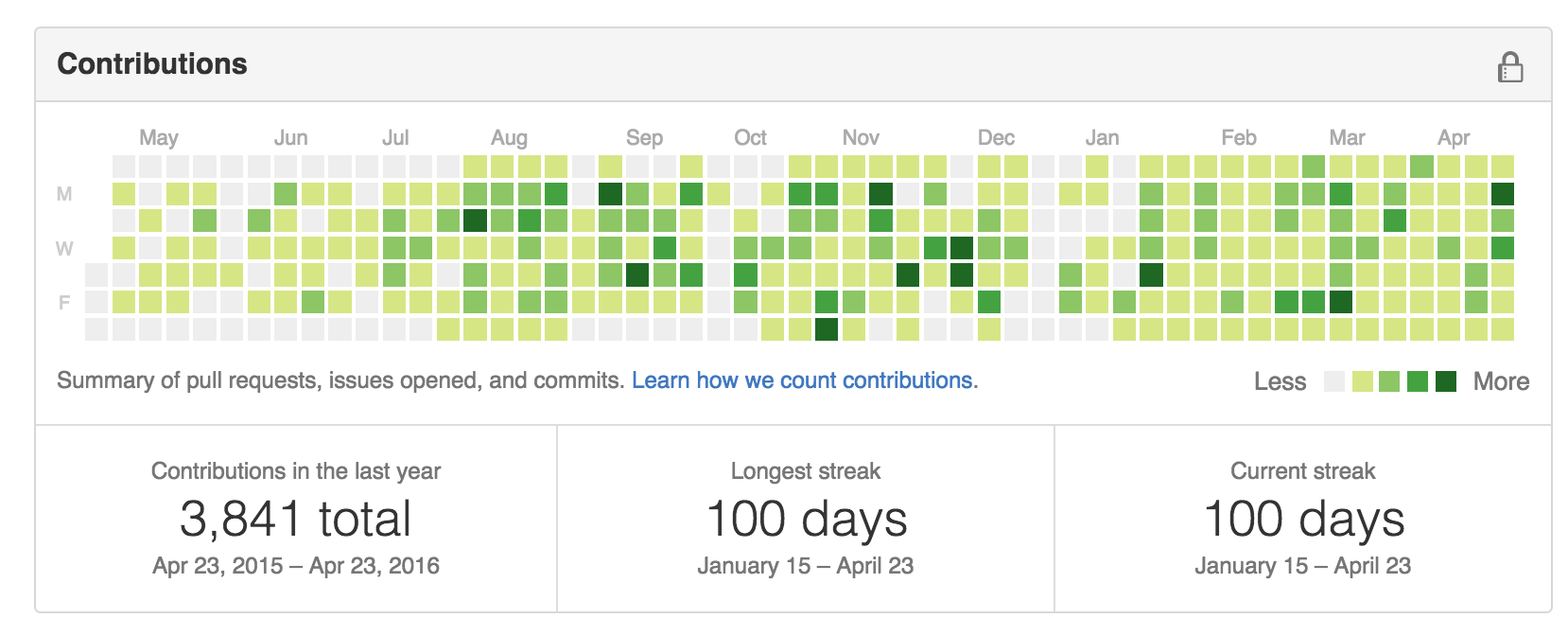 Endorsements
This section is sorely out of date as it includes NONE of the endorsements I've received while at Datadog (last 5 years).

I never really thought to capture compliments I've gotten over the full length of my career, but in the past few years I've taken the time to do so, more as a reminder to myself of what I am capable of and what others see in me. You have to celebrate yourself.





---

---

---

---

---

---
---